Jobs fair held for Honda workers in Swindon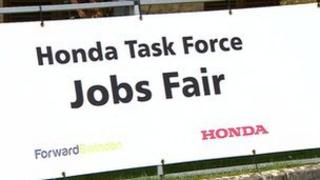 A special jobs fair has been held to help Honda workers who are being made redundant.
The Japanese car firm announced 800 job losses in January following poor sales in Europe.
More than 20 companies - including Jaguar Land Rover and Great Western Hospitals - attended the fair in Swindon.
It is not known exactly how many vacancies will be available, and it may mean workers moving their families.
About 600 Honda staff registered for the jobs fair where they found a variety of jobs advertised.
'This does help'
Most of the companies were from the automotive trade, but others included First Great Western railways and a company recruiting for people to be foster parents.
"It's a long way from painting cars, but it is much more rewarding and much more interesting - lots of challenges," Jim Humphries, from Core Assets Fostering, said.
Recruiters from fuel injection systems company, Delphi Systems, based in Stonehouse in Gloucestershire, also attended.
"Honda is obviously a fairly similar company to us, in terms of the type of people they recruit, the type of thing we do, just dealing with bigger engines really," Sarah Friday, from Delphi Systems said.
For workers willing to move to the Midlands or the North West, Jaguar Land Rover has 1,600 jobs on offer.
Danielle Scott, of Jaguar Land Rover recruitment, said: "Our success at the moment is phenomenal, you can see that from how much we are recruiting, from manufacturing, IT, finance, supply chain, purchasing, HR, literally everything,"
Former Honda worker Paul Foyster said: "It is hard enough as it is, but this does help, it helps a lot. I've picked up a lot of leaflets, as you can see. So I'm going to go home and apply for a few now."