Missing Christmas club landlord's 'haunting' farewell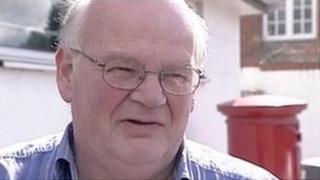 A pub landlord found dead at sea after a £29,000 Christmas club savings fund went missing told his partner to "be good, or I'll come back and haunt you" on the night he walked out.
Malcolm Levesconte, boss of the Royal Oak in Shrewton, Wiltshire, jumped to his death from a cross-Channel ferry. His body was found on Christmas Eve.
An inquest held in Salisbury heard the 59-year-old was in debt.
The coroner said Mr Levesconte had drowned and taken his own life.
Mr Levesconte disclosed the level of his debt in a series of notes discovered after his death, the inquest heard.
His partner, Janet Handsley, told police she had seen one of the notes the night before his disappearance, but only read the top line because she found it upsetting.
The next day Mr Levesconte said he was going to speak to somebody who could resolve a financial issue, but he never came back.
The content of the note was not disclosed to the inquest.
'Clearly expressed intentions'
In a statement to police, Ms Handsley said: "About a month ago (before his disappearance) I noticed a change. He hadn't been himself and couldn't sleep properly.
"I last saw him at 5.30pm on 9 December. He went out having said goodbye to me and that he loved me.
"He said: 'You'll have to be good or I will come back and haunt you'. At the time I didn't think anything about it."
The letters, found in a bundle with his last will and testament, spoke about his debt to the thrift club.
Coroner Dr Claire Balysz said they were "quite clearly expressing his intentions and the reason he chose to take the course of action".
Dr Balysz read evidence to the court stating how Mr Levesconte was a man with few friends who worked every day in the pub and rarely had any time off.
His partner described how Mr Levesconte would put his own money into the pub, which was leased from Enterprise Inns.
Mr Levesconte had booked a ferry ticket to St Malo, in France, and headed south to the ferry port at Portsmouth on 9 December.
He boarded a shuttle bus on to the ferry, but did not arrive in France. His personal possessions were discovered in his cabin.
His body was discovered two weeks later in the sea off Dover, Kent.
Following Mr Levesconte's death Wiltshire Police said they had been working on the theory that he had been propping up his failing pub business with money from the fund.