Magnet used to clear field ahead of Womad festival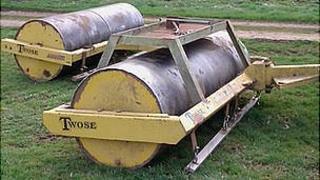 A 4m (13ft) long magnet is being used in a field in Wiltshire to pick up stray tent pegs ahead of a festival.
Up to 20,000 people are expected at the four-day Womad Festival at Charlton Park near Malmesbury this summer.
The magnet towed across the 300 acre campsite collects bottle tops and pegs left over from last year's event.
Farm manager Robin Aird, said: "We use it to pick up anything that is going to get into the cattle feed when we cut the grass in a couple of weeks."
The music festival, co-founded by Peter Gabriel, has been held on the Charlton Park Estate since 2007.
'Comfier underfoot'
"The majority of the tent pegs are picked up by the cleaning crew when they come in after the festival," said Mr Aird.
"But it's the little stuff that gets buried and as the sheep go over the field it comes to the surface and we can go through and clear all the extra bits of rubbish off."
The festival, which features music from around the world, is due to be held from 25-28 July and is expected to attract up to 20,000 fans.
"We're putting grass seed in to get a thicker mat of grass so that when everyone comes on and starts tramping on it, it will stay greener for longer," he added.
"It's also comfier underfoot and can take the traffic."