Swindon stab death: Roger Millar 'killed in revenge attack'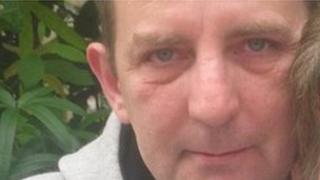 A Swindon man was stabbed to death by drug dealers, who were seeking revenge for being robbed, a court has heard.
Residents reported hearing Charles Roger Millar, 44, of East Street, Swindon, pleading for his life in the attack on 6 June.
Mr Millar, who was known by his middle name, suffered five stab wounds to his back and lower limbs during the attack.
He died at Great Western Hospital. One man has pleaded guilty to murder, four other men deny the charge.
'A scuffle'
Prosecutors allege Mr Millar was attacked repeatedly with a large hunting knife at about 01:30 BST because he was "too old and slow" to get away from his five pursuers.
The court heard the group consisted of Shelton Sibanda, 19, Zacharious Clayton, 19, Kendel Joseph, 19, Eurico Tavares, 18, and Christopher Simmonds, 28.
Jurors at Bristol Crown Court were told that less than an hour earlier, Mr Millar was with two other men and a woman who were waiting to buy drugs.
One of the men - Damian Lynch - had decided to rob the drug dealer when he arrived riding a bicycle, it is alleged.
"There was a scuffle, at least. Sibanda got away and ran off leaving behind his bike and dropping a knife," prosecutor Nigel Lickley QC told jurors.
"It does not appear that Roger Millar played any part in it at all."
'Hunting knife'
Sibanda returned to a flat in Rose Street, rounded up his associates - Clayton, Joseph, Tavares and Simmonds - and went looking for Mr Millar's group and "their purpose was revenge", Mr Lickley added.
The court heard Sibanda was armed with a large hunting knife, which eyewitnesses said was hanging from a sheaf around his neck.
Mr Millar was found by police at Barnum Court in the Rodbourne area of the town after reports of an assault. He was pronounced dead shortly after in hospital.
At the beginning of the trial Sibanda, of no fixed abode, pleaded guilty to a charge of murder. He will be sentenced at the end of the trial.
Mr Clayton, of Dean Street; Mr Joseph, of Pioneer Road; Mr Tavares, of Burbage Road, all Swindon; and Simmonds, of Mundania Road, London, each deny a single charge of murder.
Simmonds has pleaded guilty to perverting the course of justice by persuading his former girlfriend to give a false account to the police about the night of Mr Millar's death.
The trial, before Mr Justice Haddon-Cave, is expected to last six weeks.