Wiltshire's Go Ballooning advises credit card refund route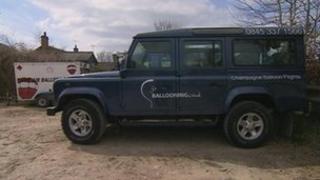 A bankrupt hot air balloon company is advising customers to seek refunds from their debit or credit cardholders.
Cameron Flights (Southern) Ltd, which operated as Go Ballooning, said in a new statement online that a creditors meeting had been arranged for 24 April.
Last week the Wiltshire-based company announced it had ceased trading with the administrator later confirming that 30 redundancies had been made.
It is believed the company had taken up to £1m in prepayments.
The company's website said: "Any creditor who has made payment by credit card or similar is advised to contact their issuing cardholder in the first instance to establish whether payment may be refunded under the 'chargeback' scheme."
It adds that the company ceased trading on 4 April "for reasons of insolvency" and Joe Sadler, of Elwell Watchorn & Saxton LLP, had been appointed to handle the administration.