Bluebell event in Wiltshire may be delayed by bad weather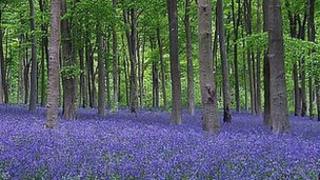 An annual bluebell event in Wiltshire which attracts hundreds of visitors may have to be delayed due to poor weather.
The Marlborough Lions Club is due to hold two Bluebell Sundays at Westwoods near Lockeridge on 28 April and 5 May.
But organisers say the recent cold weather has affected the flowers and the event may have to be postponed to 11 May if they fail to bloom in time.
Stephen Astwood, from the club, said: "It's a bit worrying as there's not a lot to see at the moment."
The 800 acres of predominately beech woodland, is open to walkers throughout the year.
'Got nothing'
But on two Sundays a year, the bluebell wood is open to vehicles.
"The Forestry Commission allows us to open the roads to allow people who are not too good at walking to actually drive into the woods and see the bluebells," said Mr Astwood.
"Unfortunately the poor things [the bluebells] have been affected by the weather and we've got nothing at the moment."
All proceeds raised by the special Sunday openings are donated to the Lions Club.