Canoeists set out on Devizes to Westminster endurance race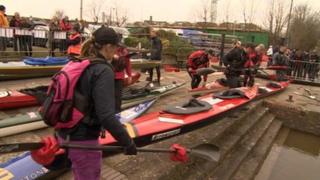 Hundreds of canoeists have set off from Wiltshire to paddle 125 miles (201km) to London over the Easter weekend.
More than 600 kayak or open canoe competitors are taking part in the 65th Devizes to Westminster Canoe Race.
The event began on Friday, but on Saturday it was the turn of the non-stop endurance race contestants.
Organiser Tom Arminstead said conditions this year were "very challenging" - particularly with the cold weather.
"The Thames is very full of water at the moment but is draining nicely so it will be a good fast time for crews who want to have a go at the record," he added.
Richard Hendron and James King, who have won in the senior doubles category for the past three years, are hoping to break the course record of 15 hours and 34 minutes set in 1979 by Tim Cornish and Brian Greenham.
The winning canoeists are due to arrive at Westminster Bridge at 08:00 BST on Sunday morning.
The fastest are expected to complete the course in some 17 hours, others will take around 24-hours.
During last year's race Olympic rowing legend Sir Steve Redgrave pulled out after 87 miles (140km) due to "tiredness".