Neighbourhood watch scheme praised by Wiltshire PCC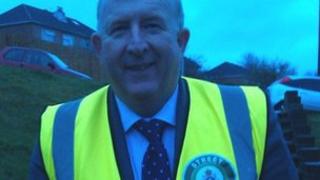 Wiltshire's recently-elected police and crime commissioner has praised a volunteer scheme set up to help tackle crime in the county.
Angus Macpherson went on patrol with the Street Watch team in Bemerton Heath, Salisbury, on Friday evening.
The group patrols neighbourhoods and reports any issues they see such as graffiti, anti-social behaviour or vandalism to the relevant authority.
Mr Macpherson said the group acts as "eyes and ears" for the police.
"It was wonderful to meet the volunteers and what they are doing is right on message for my police and crime plan," he said.
"They have very good relationship with the other neighbourhood teams who work in that area, and they come with the right attitude which is important."
As well as Bemerton Heath, there are currently teams set up in the Cathedral Close, Churchfield's and St Paul's areas of Salisbury.
Street Watch teams also operate in Pewsey and Swindon.
Volunteers have no powers and follow a non-confrontational code, but if they come across an incident they will contact the police.