Donkey found for Palm Sunday service in Pewsey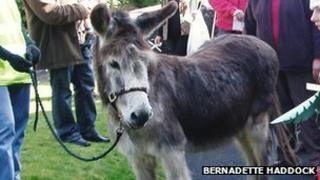 A replacement donkey has been found for a Wiltshire church's Palm Sunday service after the regular one died.
Wonkey the donkey had taken part in the St John the Baptist Church celebration in Pewsey for six years before his death last month.
The church's congregation in Wiltshire had been looking for a replacement in time for the service on 24 March.
Max McShane from nearby Upavon has since come forward to offer the services of his donkey, Marmaduke.
He said: "At 18 months, he's only a baby in donkey's years, and he's stubborn, but if you've got a pocket of sweets he'll move."
Bernadette Haddock, a member of the congregation, said it was "brilliant" to find a replacement for Wonkey.
For Christians, Palm Sunday commemorates Jesus Christ's arrival into Jerusalem, the week before his death and resurrection.