Donkey needed for Palm Sunday in Pewsey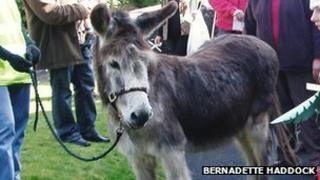 Churchgoers in Wiltshire are looking for a new donkey for their Palm Sunday service after the regular one died.
Wonkey the donkey had taken part in the St John the Baptist Church celebration in Pewsey for six years before his death last month.
The church's congregation in Wiltshire are now trying to find a replacement in time for the service on the 24 March.
Bernadette Haddock, a member of the congregation, said the donkey "should not be too frisky".
For Christians, Palm Sunday commemorates Jesus Christ's arrival into Jerusalem, the week before his death and resurrection.
Mrs Haddock said: "Children love it and as the procession moves through the village I hope it makes other people stop and think as they go by, just to jerk their memories of what Easter is really about.
"We can't forget Wonkey the donkey, but we do need a new donkey.
"It would be really nice if we could have a donkey to lead our procession from Bouverie Hall to the church.
"He doesn't have to go up the steps, Wonkey could climb the steps but we're not looking for a clever donkey, we want an amenable donkey that's not too frisky."