Salisbury hospital staff to wash soiled scrubs at home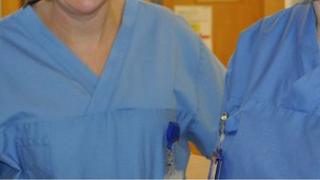 Staff at a Wiltshire hospital are to start taking their soiled uniforms home to be washed, it has been announced.
The cost saving policy is due to be introduced at Salisbury District Hospital later in the year.
Fiona Hyett, from the hospital, said home laundering would allow it to buy staff new "better quality scrub suits".
Mark Wareham, a joint union spokesman, said the offer to replace the current "unpopular uniform" which has a low cut front had persuaded staff.
The new scrub style uniforms were introduced to all nursing and therapy staff in 2006.
'Dignity issues'
According to Ms Hyett, the hospital wants to buy new uniforms because the quality of the old scrubs "could be improved".
She said: "Clearly there are financial implications of providing better quality scrub suits and key to this was returning to the arrangement where staff launder them at home."
Mr Wareham, from the joint Staff Side unions, said staff were persuaded because their current low cut uniform is unpopular and had resulted in "dignity issues".
"There was a lot of incentive for staff to support this option," he said.
"And whilst we accept that many employees wanted to take on these duties - we are concerned for the impact on the low paid, mainly female, worker who will be most detrimentally affected by this change."