Cotswold Water Park counts cost of 'worst' fly-tipping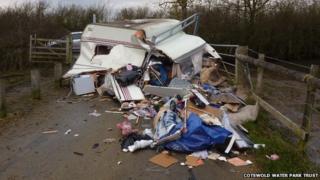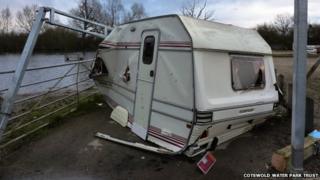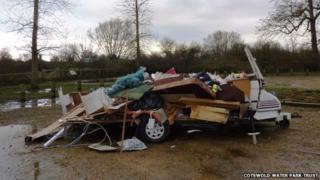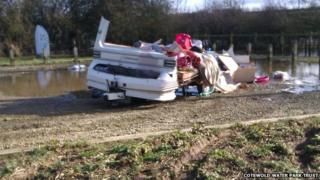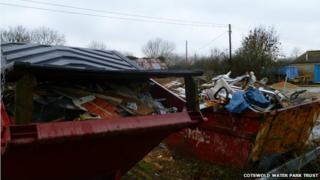 A caravan which was filled with household rubbish and dumped in pieces at a Wiltshire nature reserve is likely to cost up to £3,000 to clean-up.
The caravan was towed into a car park at Waterhay lake, part of the Cotswold Water Park (CWP), but burst open when it failed to clear the height barrier.
CWP's Trust has called it "one of the worst recorded incidents" of fly-tipping at the 40-square-mile park.
A police investigation is underway over the damage caused to the car park.
Half of the caravan was left jammed in the height barrier at the site's entrance, near Ashton Keynes, and the other half inside the car park.
The trust believes the fly-tippers, upon realising they had blocked their exit, then sawed down wooden gate posts to make their escape.
'Criminal damage'
Three local farmers and a mechanic assisted the Cotswold Water Park ranger team to clean up the site and repair the entrance gate within 24 hours.
Several items of personal belongings were retrieved from the rubbish and handed over to Wiltshire Police.
Community beat manager PC Steve Harvey, said: "Some of the items found have given me some positive lines of enquiry which I will be following up as soon as possible to trace who is responsible.
"Fly-tipping is usually dealt with by Environmental Health, but on this occasion there are acts of criminal damage which we need to investigate."
The Cotswold Water Park is made up of 150 lakes on the Gloucestershire and Wiltshire border which were created through gravel extraction.
It only has three full-time rangers who work across the whole site and maintain its five car parks.
Jill Bewley, spokesperson for the CWP Trust, said: "Waterhay is such a great place for walkers, birdwatchers, cyclists and horse-riders, so an incident like this causes a great deal of disruption and aggravation for so many people, as well as it being an eyesore in such a lovely location.
"In addition, it means that the rangers have to spend their time clearing up this filth and rubbish when they have a full works programme of habitat improvements, path maintenance, etc., to carry out around the area."