CPR at football plea after Quinton Barham's cardiac arrest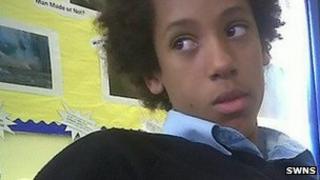 The father of a 13-year-old Wiltshire boy who had a cardiac arrest during a football game is calling for medical support to be available at all matches.
Quinton Barham of Trowbridge collapsed after complaining of chest pains. He is currently in a critical condition at the Bristol Royal Infirmary.
Quinton was given cardiopulmonary resuscitation (CPR) by a parent while waiting for paramedics to arrive.
It emerged he had been suffering from an undetected heart condition.
Quinton was playing for Bradford Town Youth Football Club on Sunday when he complained of chest pains.
His father, Paul Barham, said: "It was an awful experience.
"It's nothing I would wish on any parent.
"He came off the pitch and collapsed in my arms.
"I intend to raise awareness of the fact, at every match, regardless of age or where it is, there needs to be somebody there to administer this (CPR) if it's needed."