Quinton Barham has cardiac arrest in football game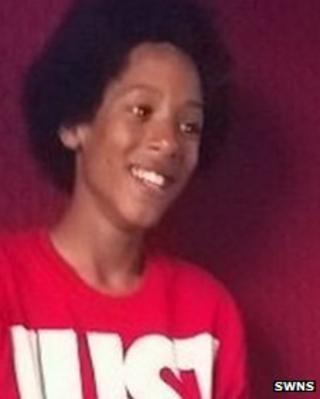 A 13 year old boy from Wiltshire suffered a cardiac arrest during a football match.
Quinton Barham, from Trowbridge, was playing for Bradford Town Youth Football Club on Sunday when he complained of chest pains.
"He came off the pitch and fell in my arms," said Quinton's father Paul Barham.
The boy's family is at his bedside at the Bristol Royal Infirmary where he is in a critical condition.
Mr Barham, 48, said doctors were "keeping him asleep for now" but had earlier reduced the muscle relaxant they were treating him with and "he coughed and wriggled his fingers".
"His pulmonary artery is in the wrong position so it doesn't go through his two heart chambers, it's in the middle," said Mr Barham.
"When he exercises hard the two main chambers expand and they crushed the artery causing the heart attack."
Quinton had been playing for just over half an hour and had scored three of his side's four goals when he felt ill.
The ex-footballer Fabrice Muamba, who suffered a heart attack during an FA Cup match last year, has been in contact with the family via Twitter.
"He's wished us all the best," said Mr Barham.
The 24-year-old former Bolton Wanderers player collapsed on the pitch at White Hart Lane during a game against Tottenham Hotspur.