Honda fined £10,000 over finger loss at Swindon plant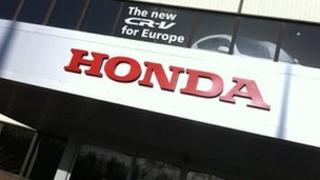 Honda has pleaded guilty to health and safety failings after an employee lost two fingers at its Swindon plant.
Mr Cesar Santos, 55, lost the index and middle fingers on his right hand whilst operating a lathe in February 2012.
The Japanese car manufacturer was fined £10,000 and ordered to pay £5,959 in costs at Swindon Magistrates' Court.
Ian Whittles, the Health and Safety Executive (HSE) Inspector, said the firm had "failed to provide a safe system of work for him."
According to Mr Whittles, who led the investigation, Mr Santos had been asked to polish a work piece that had been put on to a lathe.
"He wrapped a piece of emery cloth around the work piece, rotating at high speed, whilst leaving a single glove on one hand," he said.
"Unfortunately he was distracted by people, sitting around the machine, causing his hand to be drawn in losing two of his fingers on his main hand."
'A dangerous practice"
Mr Whittles said it was a "dangerous practice" and Honda had "failed in their assessment of the use of emery cloth and let him [Mr Santos] down".
He said: "If an emery cloth is held by hand and wrapped round a work piece, there is a high risk of it becoming entangled.
"Wearing gloves also increases the risk of entanglement and for these reasons hand application of emery cloth should be avoided."
In a statement Honda said the "activity was contrary to our existing policy and procedure" but it "sincerely regrets the injuries which Mr Santos has suffered".
The statement went on to say that the firm "accepted responsibility for the accident at the earliest opportunity" and has "fully co-operated with health and safety inspectors throughout the investigation".
It is the company's first prosecution since Honda UK Manufacturing launched in 1985.