Sex offender John Radley caught after absconding from Swindon trial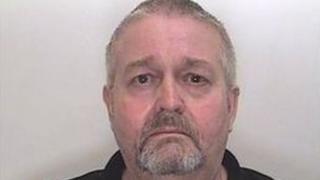 A convicted child sex offender who failed to attend the last day of his trial more than six months ago has been found and arrested, police said.
John Radley, 57, from Finsbury Park, London, was convicted in his absence by a jury at Swindon Crown Court in May.
He was found guilty of 16 sex offences against children, which took place in Chippenham, Calne and London, and a warrant was issued for his arrest.
He was found in Stockport, Greater Manchester, on 9 November.
Radley was convicted of 10 counts of sexual activity with a boy, four counts of sexual assault on a girl, attempted rape and committing gross indecency with a child.
A police spokesman said: "He is currently in hospital but will be brought back to Swindon Crown Court for sentencing as soon as he is discharged from hospital."