Hospital's cleaners 'disciplined for whistleblowing'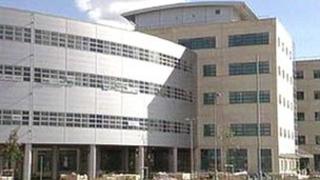 A union says 10 workers employed by Carillion at Swindon's Great Western Hospital are being disciplined for whistleblowing admissions.
GMB's long-running row with employer Carillion concerns leave, claims of bullying and intimidation.
Andy Newman, of the union, said the workers involved previously gave evidence of malpractice by managers.
A spokesperson for Carillion said it was "working hard to resolve this situation over the next few weeks".
Mr Newman said the firm was "in the wrong position legally and morally", and said he feared the staff members in question could be dismissed.
He added: "We're just hoping that Carillion don't do anything silly because we want to be in a situation to resolve this dispute."
Hospital cleaners and domestic staff have taken 20 days of strike action since February, during which Carillion carried out an investigation into the claims.
The management inquiry was started after a collective grievance was submitted by 132 members of staff in December 2011 concerning allegations employees had been "intimidated or threatened" and that there were restrictions on staff leave over the Christmas period.
During the investigation, Carillion said there were shortfalls on its part "in the expected standards of behaviour".
An internal report also identified a small number of incidents of "unacceptable racist behaviour" on its part at the hospital, and Carillion said those involved would face "appropriate disciplinary action".
The firm said it was still investigating other serious issues.