Google Street View welcomes first canals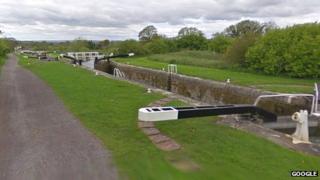 A Wiltshire canal is one of the first stretches of Britain's canal network to appear on Google Street View.
The application allows internet users to take a 360-degree virtual walk along the Kennet and Avon Canal past the Caen Hill Lock Flight in Devizes.
Canal tow-paths between Devizes and Semington were photographed by Google's Street View Trike early in the summer.
A Canal and River Trust spokesman said it puts the canal "on a par with the likes of Stonehenge and the Coliseum".
The stretches of canal available to see on Street View include the historic Caen Hill flight of 16 locks constructed in the early 1800s and the Kennet and Avon Canal between Devizes and Semington.
"Two hundred years ago, the canal network helped put the 'Great' into Great Britain as an industrial nation," said Robin Evans, from the Canal and River Trust.
"Having these canals on Street View helps open them up to millions of people right around the globe who might not otherwise be able to come and experience them."
The Google Maps service, providing panoramic street-level views, was launched in 2007.
It focuses mainly on towns and cities but also includes the ancient heritage site of Stonehenge.