Longleat Safari Park macaque monkey captured with fruit trap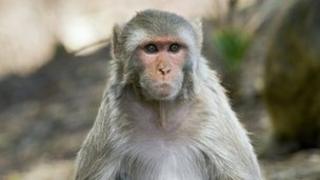 A monkey which escaped from a safari park has been caught after being tempted by a trap baited with fruit.
The juvenile rhesus macaque monkey escaped from Longleat Safari Park in Wiltshire on Thursday afternoon.
Police joined park staff in the search and people living nearby were warned to keep windows and doors closed, despite the primate being dubbed "low risk".
But the monkey was recovered near the estate at about 20:00 BST on Friday after being tempted by the fruit.
Monkey Jungle
A safari park spokesman said: "The monkey was caught close to the estate in a humane trap that was baited with fruit and appears to be fit and healthy.
"It has now been returned to Longleat where it will be given a thorough examination.
"A detailed inspection of the Monkey Jungle enclosure has not revealed any potential gaps in the secure perimeter fencing, therefore it is possible that the small primate may have been inadvertently taken out of the enclosure on a vehicle.
"Steps have been taken to ensure this cannot happen in the future.
"Longleat would like to thank the police and local people for all their help and assistance."
The monkey, which is about the size of a domestic cat, is a member of the resident colony of rhesus macaques at the safari park near Warminster.