'Unusual' funnel clouds spotted in Somerset and Wiltshire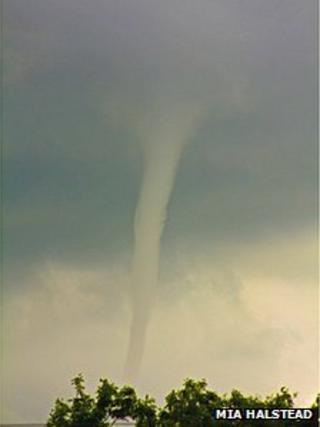 Three separate funnel clouds were spotted over parts of Somerset and Wiltshire, on Thursday afternoon.
The phenomenon was reported in Taunton and Bridgwater in Somerset and near Marlborough in Wiltshire.
Hundreds of feet high, the cloud near Marlborough lasted 10 minutes - much longer than the average two minutes.
Paul Knightley, from the Tornado and Storm Research Organisation, said it was unusual for funnel clouds to develop in such "benign cloud types".
"Funnel clouds are normally associated with quite vigorous weather conditions," he said.
"So it was quite unusual for them to develop in such benign cloud types with no rain and no thunderstorms."
Funnel clouds are similar to tornados but are weaker and do not make contact with the ground.
Lianne Barrington, from Wiltshire, said she saw it forming over Wroughton near Swindon at about 17:45 BST on Thursday.
"I took a few pictures tracking its growth," she said.
"But my camera couldn't pick up its very thin tail which looked like it was about five to six feet from touch down."
The phenomenon was also spotted near Bridgwater and above Taunton in Somerset at about 14:45 BST.