Chippenham 'win a shop' competition winners revealed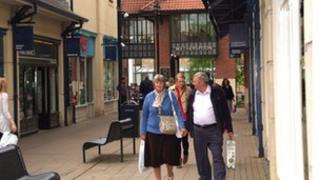 The successful candidates who won rent-free retail premises at a Chippenham shopping centre have been revealed.
Local entrepreneurs were invited to submit a business proposal for Borough Parade owner Mountgrange to choose who should occupy two empty units in the centre.
Winners Karen Jones and Anne Rudd are to move into their new shops shortly.
A Mountgrange spokesman said they were "delighted" with the success of the scheme designed to defy the recession.
The successful applicants will each be given a retail unit in the centre rent-free for six months.
Independent stores
Their costs will also be covered for the first two months and they will be assisted by Mountgrange with the launch of the shop.
At the end of the rent-free period they will be offered a formal lease.
Ms Jones's shop, Vintage Couture 77, will sell vintage clothing, trinkets and small gifts.
Ms Rudd's shop will be called Jim and Jemima and will sell children's clothing that she makes herself, as well as other brands of children's clothes.
Borough Parade shopping centre, in Chippenham town centre, is home to a selection of national retail brands and independent stores.