Heart screening for Swindon Town football players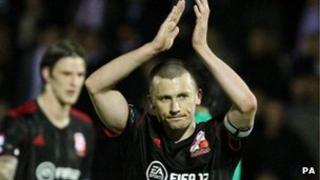 Swindon Town Football Club will test all their players for heart defects before the start of next season.
There have been calls for all sportspeople to be screened after the collapse of Bolton Wanderers' Fabrice Muamba on the pitch earlier this year.
Swindon captain Paul Caddis said players at all levels of the game should consider being tested.
He said: "If your body's going to go through a lot of hard work and fatigue then why not?"
Muamba, 24, suffered a cardiac arrest during a game against Tottenham Hotspur on 17 March. He was in hospital for a month before being discharged.
"It's a shame something like this ticks it all off. Maybe it's time for us to act, really, doing these kind of tests," Caddis said.
"It could happen to anybody, it doesn't matter if professional footballers work a lot harder than semi-pros. Fabrice Muamba was only playing the first 25 minutes of a high intensity game.
"If he'd got a check-up then they might have been able to point to what exactly was wrong with him.
"I think everybody should do it, whether you're a footballer or tennis player."
Alison Cox, who founded the charity Cardiac Risk in the Young, said that following the collapse of Muamba its screening programme had received a year's worth of bookings in one month.
She said: "That gives an idea of the impact of what happened to Fabrice and how, in that one massive incident that has such wide public attention, it's raised the awareness beyond anything.
"A number of different conditions all come under the same umbrella, but if they're not diagnosed they can cause sudden death."