A listed WWI hangar in Wiltshire is to be demolished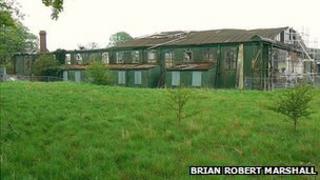 An "exceptionally rare" WWI hangar at a former RAF base in Wiltshire has been approved for demolition by the council.
The grade II* listed building at RAF Yatesbury was due to be restored as part of a £3m scheme in 2008.
Development was stopped due to "funding issues" and after partially collapsing, it is in an "exceptionally poor state", said English Heritage.
In a letter to the council it said demolition was "clearly contrary to the existing permission".
But the organisation conceded that the repair and re-use of the hangar was "unlikely to be achievable whilst retaining its significance".
RAF Yatesbury, near Calne, was opened in November 1916 as a training depot station of the Royal Flying Corps.
It was developed into a permanent camp between the two wars, before closing in the 1960s.
The site contains four listed buildings, dating from about 1916, three of which are hangars on English Heritage's List of Buildings at Risk.
Owner Jamal Khanfer, in his application to Wiltshire Council, said since restoration work ceased in 2008, hangar 3 - had become "dangerous".
He said: "The case for retaining the structure which is incapable of repair or stabilization is outweighed by the serious health and safety risk it poses to the public if left in situ to decay further."