Avebury Manor house reopens after TV makeover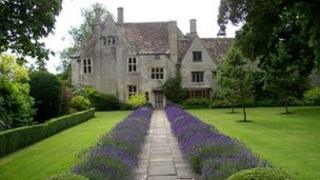 A 500-year-old manor house in Wiltshire has reopened to the public after a makeover project by the BBC and National Trust.
The Grade 1-listed Avebury Manor dates back to the 16th century.
It has had numerous owners including archaeologist Alexander Keiller who undertook numerous excavations at the nearby stone circle in the 1930s.
The house has been completely restored for the television programme, The Manor Reborn.
Over four hour-long episodes, the series will follow the refurbishment of the property as it is brought back to life by a team of historians, experts and local volunteers.
The programme, presented by Penelope Keith and Flog It's Paul Martin, will show different rooms in the house restored to four distinct periods in the house's history - Tudor, Jacobean, Georgian and Victorian.
Archaeologist for the National Trust at Avebury, Dr Nick Snashall said: "The BBC project has put the life and the lives of the people who lived here back into the manor. And that for me is what is really special."
The series begins on BBC1 on Thursday.