Royal Wootton Bassett's new signs unveiled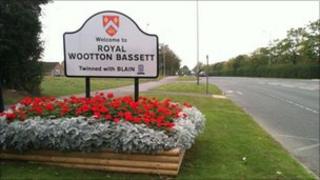 New signs reflecting Wootton Bassett's new "Royal" prefix have been unveiled.
An official re-naming ceremony will be held on Sunday, where the Princess Royal will grant Letters Patent.
Chamber of Commerce chair, Suzanne Gore, said: "It's a reflection of the community spirit in the town so it's for the town, and for visitors it's almost like a pilgrimage."
Wootton Bassett won its new title for its role in the repatriation of many military personnel killed in war.
The first repatriation service took place in the town in April 2007 when the bodies of military personnel began arriving at the nearby RAF base at Lyneham.
Since then thousands of people have turned out to pay their respects to other servicemen killed in conflicts in Iraq and Afghanistan.
"The people who I've spoken to feel very passionate - they just wanted to come... and feel the community spirit," said Mrs Gore.
"They come from all over the world, and some are also relatives [of those who died] who live locally."
The re-naming ceremony is expected to cost in the region of £65,000 according to North Wiltshire MP James Gray.
Wootton Bassett Town Council has received around £30,000 from various charities, public donations and has said any surplus money will be donated to various forces charities.
Between 15,000 - 20,000 people are expected to attend the ceremony on Sunday.