Smaller bins introduced in Bristol to boost recycling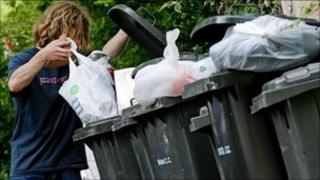 Smaller dustbins are being introduced in Bristol in an attempt to force people to recycle more waste.
By June 2012, all the city's 160,000 240-litre black bins will be replaced by 180-litre bins.
The city's new waste contractor, May Gurney, is also introducing doorstep plastic recycling next year.
The company argues bins a quarter smaller than usual will encourage people to recycle and use the new plastic collections service.
May Gurney is due to take over Bristol's waste collection from the beginning of November.
As part of its seven-year contract to reduce black bin waste, the company is melting down larger bins to create smaller bins.
It is also equipping its fleet of bin lorries with devices to monitor resident's recycling efforts and introducing a "waste doctor".
Neal Willis, the company's regional operations director, said with smaller bins they "accept that there are going to be houses with six or more residents that may struggle".
"We're happy to work with the residents - to use the waste doctors to explain how they can get the best out of the service but also we can provide 240-litre bins as necessary to such households.
"And if there is a particular issue with an area or some residences who don't seem to be able to recycle as much as they could, we can offer assistance, education and communication to help improve that."