Polar bear attack: Funeral of Horatio Chapple is held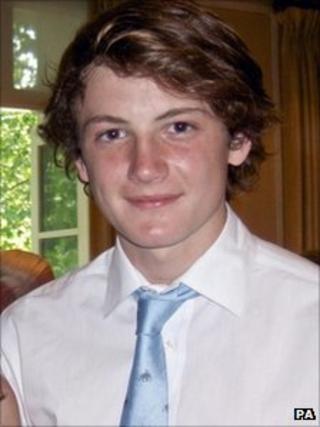 The parents of a teenager who was mauled to death by a polar bear in Norway have said his funeral was "a wonderful tribute to his achievements".
Eton pupil Horatio Chapple, 17, from Salisbury, died when he was attacked by the animal at a camp in Svalbard on 5 August.
About 80 people had been taking part in the trip, organised by the British Schools Exploring Society (BSES).
More than 900 people attended his funeral at Salisbury Cathedral.
'Very proud'
Horatio's parents David and Olivia Chapple, and his brothers Titus and Magnus, said in a statement: "We are so grateful for the incredible support, generosity and kindness everyone has shown to us.
"The service today was a wonderful tribute to Horatio's achievements in the 17 years of his life.
"We would like to thank all who made the service possible.
"So much love has been shown to us in the last few weeks and we hope that Horatio will be remembered for how he lived his life - full of love, hard work and kindness.
"We will always be very proud of him."
'Exceptional young man'
At the service on Friday, Magnus Chapple and friend Nick Hampson performed a song called Horatio, which Magnus composed in memory of his brother, an aspiring medic.
The Dean of Salisbury, the Very Reverend June Osborne, said: "Horatio was an exceptional young man who clearly had an attractive spirit of adventure and bravery.
"His death is not only tragic for his family but has reminded us all of the slenderness of the thread which separates life from death and the suddenness with which it can be broken.
"His funeral in Salisbury Cathedral celebrated his life and allowed us to mourn his dying, whilst also reminding us of the things which give us hope in the face of such sorrow."
The polar bear attacked the BSES campsite, near the Von Post glacier, about 25 miles (40km) from Longyearbyen.
Group leader Michael Reid, 29, from Plymouth, Andrew Ruck, 27, from Brighton, 17-year-old Patrick Flinders, from Jersey, and 16-year-old Scott Bennell-Smith, from St Mellion in Cornwall, were also injured in the attack.
The animal was shot dead by Mr Reid, who was discharged from Derriford Hospital in Plymouth this week after three operations for head and face injuries.
Polar bears are the largest land carnivores, reaching up to 8ft (2.5m) long and weighing 125 stone (800kg).