Stonehenge bones decision backed by humanist association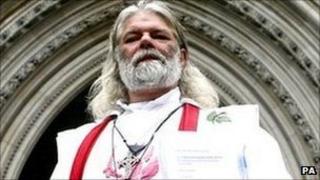 Humanists say scientists should be allowed to continue research into human bones found at Stonehenge.
Officials from the British Humanist Association (BHA) said it was "important" that scientists examined the 5,000-year-old remains.
Druid leader King Arthur Pendragon lost a High Court bid on Tuesday to have the bones, found in 2008, reburied.
A BHA spokeswoman said the remains were of "scientific, historical, educational and archaeological value".
The cremated remains of more than 40 bodies, thought to be at least 5,000 years old, were removed from the burial site at the ancient stone circle in Wiltshire.
The BHA's head of public affairs, Naomi Phillips, said examining the bones was "vital for future scientific and historical research".
'Founding fathers'
The Ministry of Justice had allowed scientists at Sheffield University to analyse the samples for five more years.
But Mr Pendragon, 57, said the bones were remains of members of the "royal line" or "priest caste" who could have been the "founding fathers of this great nation".
At Tuesday's High Court hearing, Mr Justice Wyn Williams refused to give Mr Pendragon permission to launch a judicial review.
He said there was insufficient evidence to show that the Ministry of Justice might have acted unreasonably.
Ms Phillips said: "Druids have no more genetic 'claim' over the human remains than anyone else in Western Europe and similarly the remains are not of value exclusively to them.
"Their unshared beliefs should certainly not trump the wide and clear benefit in not having the remains reburied while they are still of such value."