Swindon girl Rachael Blackman christens fungus 'hotlips'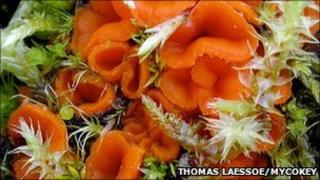 A lurid orange fungus has been officially christened "hotlips" by a 12-year-old girl from Swindon.
Rachael Blackman beat more than 5,000 entries in a competition to find a moniker for 10 endangered or overlooked species lacking a common name.
Judges said Rachael's name perfectly captured the appearance of the vivid orange fungus.
The name hotlips will now enter the English language alongside the fungus's Latin name, Octospora humosa.
Nine other species were christened in the Name a Species competition, run by Natural England and the Guardian newspaper.
'Witty and memorable'
Rachael said: "They looked a bit like lips and I thought the name suited it really well because of the bright orange colour.
"It's exciting to know it will always be called hotlips."
Judges said they had no idea that a 12-year-old girl had come up with the name.
Adam Vaughan, editor of environmentguardian.co.uk, said: "The fact that a 12 year-old girl won the Name a Species competition puts paid to the lie that today's young generation are not interested in nature.
"By dubbing a fungus with the witty, memorable and salient name of hotlips, Rachael Blackman has probably done more for the conservation of Octospora humosa than any naturalist before her."