Olympic torch bid for man who climbed wrong mountain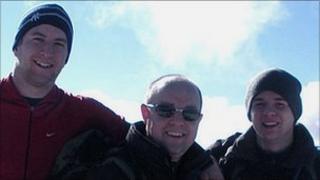 The leader of a Wiltshire group who climbed the wrong mountain in the Three Peaks Challenge has been nominated to carry the Olympic torch.
Damien Davis, of Cricklade, and six friends set out to climb the UK's three highest mountains in memory of Wayne Wilson, 26, who died of leukaemia.
They raised £10,500 despite taking a wrong turn and scaling Stob Ban instead of Ben Nevis.
Mr Davis has now been nominated to be a torchbearer by Mr Wilson's mother.
"I think it was more for our dedicated fund raising than for our sporting achievements," said Mr Davis.
"And having had the nomination come from Wayne's mum has meant a lot.
"If I was chosen it would be quite emotional because in spirit Wayne would be running beside me."
Lost in Scotland
Mr Davis and his friends formed Team Wayne and took part in the Three Peaks Challenge in April.
The group took the wrong turn at the start of the trek in Scotland and scaled the wrong mountain, though.
"We attempted to climb Ben Nevis, which you'd think would be obvious, but we scaled Stob Ban instead which we've nick-named Dave Nevis.
"They all look the same from the bottom."
The publicity following the team's failed attempt "ironically" allowed the group to raise nearly £10,500 for Leukaemia Research.
The group also got lost while climbing Scafell Pike in Cumbria.
Now Mr Davis has received several nominations to become one of the 8,000 Olympic torch bearers.
If chosen, he will be given the opportunity to carry the Olympic Flame for one of the legs of the Olympic Torch Relay.
"If I'm lucky enough to get picked I think the judging panel allocates you a spot," said Mr Davis.
"There is a little clause on their website that says that they will try and get you near your home town but there are no guarantees.
"And if they stick me in Scotland I might end up getting lost again."
The six friends are also planning to tackle the Three Peaks Challenge again next year.