Military recovery centre opens at Tedworth House, Tidworth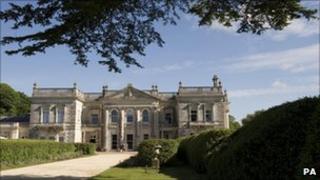 A £17m recovery centre for injured service personnel in Wiltshire is preparing to welcome its first guests.
Tedworth House in Tidworth, which has been described as a "launch pad to life", has been funded by the forces charity Help for Heroes.
Initially 29 people will move in and by next spring the capacity will increase to 50 residents.
Help for Heroes says there will eventually be places for up to 50 day residents at the house.
Tedworth House will act as a recovery centre, helping with the intellectual and social recovery of personnel who have completed their first stages of rehabilitation at Headley Court, Surrey.
The house was bought by the Army in 1897 and became the centre of the new Tidworth Garrison, but retained Tedworth, its old spelling of the name.
Help for Heroes took over the historic house in February.
One of the centre's first residents will be Pte Josh Campbell, 21, from 23 Pioneer Regiment who was injured in Afghanistan in 2009.
He described the support of Tedworth House and Help for Heroes as "one major morale boost".
"If life is getting a bit much or you've come across a problem you can come here and if you know someone here that has had that problem before you can ask them. It's just the camaraderie and cracking on.
"My vehicle drove over an IED in the road, unfortunately it detonated... I woke up two weeks later with no legs in Selly Oak [hospital], Birmingham.
Maj Peter Smith, who is running the centre, said many of the injured had lost their self esteem.
"They are worried about what they can't do.
"What we'd like them to focus on is what they can do."
Help for Heroes said the centre will enable individuals to have their basic concerns addressed before they leave the forces, with the right job, a properly-adapted house and medical, prosthetic, financial and emotional support in place.
Tedworth House is one of five personnel recovery centres which are being built in major garrison towns across the UK.