A war memorial in Salisbury is being moved to make space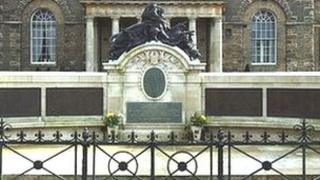 A war memorial that has stood outside the Guildhall in Salisbury for 85 years could be moved to make more space.
The monument, in Guildhall Square, is in memory of the citizens of Salisbury who gave their lives in World War I.
As part of plans to improve the square, the memorial is being moved 40ft (12m) from its current location and rotated to face into the square.
Street clutter such as bollards and "unnecessary signage" could also be removed as part of the scheme.
Richard Walters, director of Salisbury Vision, said the memorial was being relocated to make the area a "more flexible space".
"The Guildhall Square is the area in front of the Guildhall and the war memorial sits right in the middle of that at the moment, which makes it quite difficult," he said.
"You have to work around it when you're trying to do other things in that space."
Listed building
Following consultation with the Royal British Legion and the War Memorials' Trust, it is proposed that the memorial be dismantled, cleaned and re-assembled in a new position facing Guildhall Square along Queen Street.
"It's a very, very significant and important monument and we want to make sure that in any relocation that it is properly relocated in a sensitive way and that the structure is in no way harmed or interfered with," said Mr Walters.
"I was surprised to discover that it wasn't listed at the time but we consider it a monument worthy of listing and have treated it as a listed building."
The Market Place Project, funded by Wiltshire Council, is expected to start on site at the beginning of 2012 subject to planning permission being granted.