Sunderland City Council unveils brewery site revamp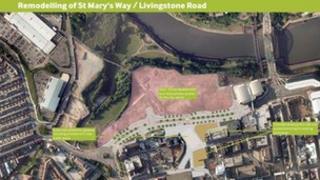 Plans to redevelop a former brewery site in Sunderland including building a new road have been unveiled.
The city council bought the 26-acre Vaux site in 2011, and is planning to turn it into a business district.
The first stage of the revamp will cost £13.4m and will involve building a new road to ease traffic flow.
The plan also involves remodelling St Mary's Way and Livingstone Road into a boulevard design subject to planning permission, the council said.
A council spokesman said: "The new road is designed to simplify traffic flow and improve the connection between Vaux, the city centre and the rest of Sunderland.
"The boulevard design would provide wider footways, a tree planted central reservation and a dedicated bus lane.
"Realignment of St Mary's Way would also free up space to create a high quality pedestrianised public area, suitable for events or public gatherings."