Gateshead baby 'youngest in the world' to get artificial heart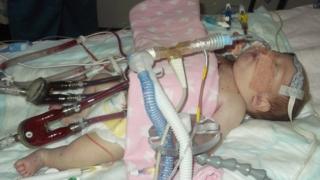 A 12-day-old girl has become the youngest in the world to be fitted with an artificial heart, doctors said.
Tiarna Middleton, from Rowlands Gill, Gateshead, was born on 22 May but her coronary arteries had failed to form.
Kept alive by a machine which takes over from the heart and helps to pump blood around the body, the device is known as a Berlin Heart.
Tiarna's father Gary, said she was "recovering well" and they were "hoping for the best" every day.
His daughter was delivered by caesarean section weighing 5lb 8oz, when doctors realised she had a rare congenital heart condition.
'Hour by hour'
Doctors at the Freeman Hospital in Newcastle carried out a nine-hour operation to fit the device which operates outside the body.
It is hoped the artificial heart will keep her alive until a donor heart becomes available.
Mr Middleton said: "It has gone well up to now and she is recovering well. We're just hoping that she gets a heart when she needs one.
"We're just taking each day as it is really, just hoping for the best every day and just taking it hour by hour."
Other children have previously been kept alive for more than 200 days on the specialist devices, which work by helping the right ventricle of the heart to pump blood to the lungs and the left ventricle to pump blood to the body.