Sunderland fans go to Wembley for Capital One Cup final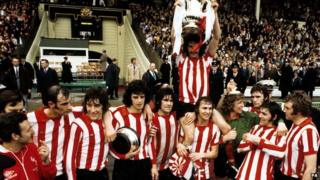 More than 30,000 Sunderland fans headed to Wembley to see their team play in the League Cup final against Manchester City.
A victory in the Capital One Cup final would have seen the Black Cats win their first major trophy since they won the FA Cup in 1973.
But it was not to be with City beating Sunderland 3-1.
Before the match, manager Gus Poyet, said the team needed to be "perfect" to win the game.
Young fan Joseph, who supports both teams, wore a half Man City, half Sunderland shirt on the day.
Joseph said that although he likes both teams, he wanted Manchester City to win the cup.
The game was Sunderland's first cup final in 22 years.
Fran Mitchell from Northumberland saw Sunderland lift the FA cup in 1973 when she was 15-years-old.
She said: "I'll never forget it. It was just fantastic.
"I'll never forget Bob Stokoe running on the pitch, it was just great. I couldn't see a lot because everyone was jumping up and down, but it was marvellous."
Mrs Mitchell was going to Wembley with her husband, daughter and her son who was flying from Houston, Texas, to watch the game.
Before the game, she said: "They've beaten them before so why not. Win or lose it's a massive achievement, good on them."
'A hero in Sunderland'
Sunderland AFC last beat Manchester City in November, when they won 1-0 at the Stadium of Light.
Gus Poyet has guided Sunderland off the bottom of the Premier League since his appointment as head coach in October.
He said: "I was told last week that if I want to be famous or a hero in Sunderland then I need to win the cup. It puts pressure on us but I love it."
Manchester City have won the League Cup twice in 1970 and 1976.
During the game, a 400 sqm (4,300 sq ft) flag was due to be unveiled bearing the club's crest.
The £4,000 flag was a joint venture between the club and fanzine A Love Supreme.
Northumbria Police said there would be extra police patrols in towns and city centres on Sunday.