Heather Arthur murder trial: Lover feared for her safety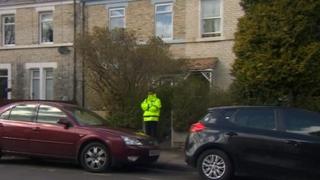 The lover of a woman stabbed to death by her "controlling husband" feared she would come to harm the day before she died, a court has heard.
The body of Heather Arthur, 50, was discovered at her home in Woodbine Road, Gosforth, Newcastle, last April.
Her husband Mark, 50, has admitted manslaughter, but denies murder.
Newcastle Crown Court heard Mrs Arthur's musician lover, Paul Gowland, urged her to watch her husband's "every move" the day before she was killed.
Mrs Arthur, a privately-educated former British Airways manager, was in the throes of leaving her partner of 30 years, whom she met at Kingston University, when he stabbed her in the chest.
She was in a relationship with 44-year-old saxophonist Mr Gowland, who played in a number of different groups at her local pub.
'Years of unhappiness'
The day before she was killed, Mrs Arthur told him she and her husband were going on a final day trip to the National Trust home, Wallington Hall.
Mr Gowland urged her to go somewhere with plenty of people about, texting her: "Please watch his every move, honey. You have to be careful."
She replied: "I promise I will keep in view of others."
Mark Giuliani, prosecuting, asked: "Why did you understand Heather wanted to separate from her husband?"
The musician replied: "She had years of unhappiness, felt intimidated, felt threatened in some way, didn't have any freedom in her life, he was always tailing her, interrogating her. He was unaffectionate towards her."
Earlier the jury heard Mr Arthur had installed GPS software on his wife's mobile phone so he could track her movements.
He also headbutted her car so hard it caused a dent to the bodywork during one row about them splitting up.
Mr Gowland agreed with Joanna Greenberg QC, defending, that Mr Arthur did not know about his wife's affair.
The trial continues.