£1m crane bought by cash-strapped council and unused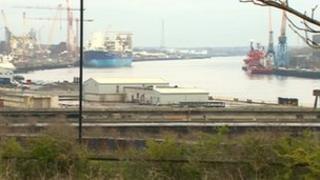 A £1m crane was bought by a cash-strapped council and has been unused for months, the BBC has learned.
It was bought early in 2013 by Jupiter Offshore Services, a marine engineering firm granted a licence to operate on Tyneside's former Swan Hunter shipyard.
But it has emerged North Tyneside Council revoked the licence after a legal challenge in May and bought the crane from the company in compensation.
No-one then bid for the replacement contract to operate it.
The old shipyard is now an enterprise zone, attracting special tax breaks, and is being developed as a centre for renewable energy businesses.
The decision to award the licence - made by the previous Conservative administration in March - was challenged by another local firm, Shepherd Offshore.
The council, Labour-run since local elections in May, decided to withdraw the licence and paid Jupiter Offshore for the crane it had already purchased.
A new contract to operate the crane was put out to tender in September last year but, with no bids, the council said it will now operate the crane itself.
'Undue haste'
Labour councillor Jim Allan said the previous Conservative administration, headed by its then-elected Mayor Linda Arkley, was to blame.
He accused Ms Arkley of rushing through decisions on the Swan Hunter site in the dying days of her administration last year while she was unsuccessfully seeking re-election.
"I think perhaps the licence was rushed thorough for perhaps political purposes in advance of an election," he said.
"All of that undue haste has caused all these problems and issues. So now I think the Labour Mayor, Norma Redfearn, is having to pick up the pieces to try and resolve it."
Linda Arkley denies this claim and said the process of awarding the licence was "fair and above board".
She also questioned the current Labour administration's decision to buy the crane.
"Using public money to buy a crane is just beyond belief and then not to have anybody to use it, not to operate it, it just doesn't seem right to me at all," she said.
"I'm sure that residents of North Tyneside should be asking questions."
The council has already paid £500,000 for the 200ft (60m) high crane and will pay further instalments over the coming year, to a total of £900,000.
North Tyneside Council said it was facing one of the "toughest" budgets in its history and planned savings of about £20m this year.
But the local authority argues that buying the crane was the best option available.
By owning and running the crane itself it would generate income in the long run that would more than recoup its cost, it said.
The crane is yet to be erected and may not be working until the end of the year.