Run Geordie Run Mark Allison's Australia challenge U-turn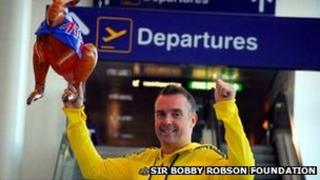 A Northumberland man has said he will resume his attempt to run 2,600 miles across Australia, 24 hours after announcing it would be abandoned.
Mark Allison, known as Run Geordie Run, set off from Perth in October to raise money for charity.
The 42-year-old, from Blyth, was 180 miles from the Sydney finish, but felt the next part, along a busy motorway route, would have been too dangerous.
He has now revised the route and will be setting off on 1 January.
'Few nightmares'
Mr Allison said it had been a "really tough" decision to end the challenge, but had received messages of support via social media, before changing his mind.
He said: "I had a few nightmares [last night] and woke up thinking, 'there must be a safe way to finish this run'.
"So I took a look at the map and found a route which is much safer than the previous one, hence my change of heart."
He added: "The revised route is over a notorious mountain pass, and will be more difficult. However, it will be safer than running down a motorway in the dark.
So far, his Australian challenge has raised £37,000 for the Sir Bobby Robson Foundation and The Children's Foundation.