Salvage operation for beached Grenaa Star fishing boat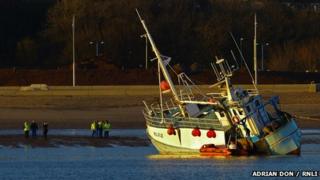 Work to salvage a beached fishing boat, which was damaged after hitting a pier, should be complete before Christmas, insurers have said.
The captain of the 60ft (18m) Grenaa Star was arrested on suspicion of being drunk after it collided with Tynemouth's South Pier on Tuesday.
The badly damaged 46-tonne vessel was beached at nearby South Shields.
Insurers Sunderland Marine said specialist equipment would be drafted in "as quickly as possible".
The Hartlepool-registered boat suffered hull damage when it struck the pier and is partially submerged on South Shields' Littlehaven Beach.
A spokesman for Durham-based Sunderland Marine said staff were working with the Port of Tyne to remove the vessel.
He said: "We are looking at several options to recover the vessel and we would hope to have this completed by Christmas."
The boat's 53-year-old captain was treated for a head injury and later arrested and bailed on suspicion of being a master, pilot or seaman unfit through drink.
No-one else was hurt.