Chris Brown inquest: Raoul Moat risk 'unknown'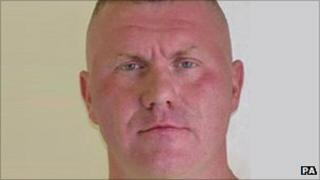 The risk posed by killer gunman Raoul Moat was unknown, an inquest has heard.
The 37-year-old made threats in prison to his ex-girlfriend Samantha Stobbart before being released and shooting dead her boyfriend Christopher Brown.
But despite authorities knowing about the threats, Newcastle coroner Terence Carney said he was not satisfied "failings" led to the death.
He ruled that the 29-year-old year from Slough had been unlawfully killed and that he was a "forgotten" victim.
Shortly after his release in July 2010, Moat went to Ms Stobbart's home in Birtley, Gateshead, where he shot and seriously injured her, and killed Mr Brown.
He then went on to shoot and blind PC David Rathband before shooting himself after a stand-off with police in Rothbury, Northumberland, a week later.
But Mr Carney said despite the police and the prison service being aware of Moat's possible intentions, the exact risk he posed was not known.
"My finding is that Christopher Brown was unlawfully killed by Raoul Moat but the precise risk he presented was not known," he said.
"I'm not satisfied that the information we have heard and was available was used appropriately.
"But I'm not satisfied that a failure to use this information has directly caused Christopher Brown's death or contributed to it."
'Forgotten victim'
Mr Carney also praised Mr Brown's mother, Sally.
"In her statement to this inquest the mother of Chris Brown challenged us to remember him, saying that much has been said and written about Raoul Moat and that we should quite properly focus on her son," Mr Carney said.
"It cannot be denied to her that much has been made in legal proceedings to date about those responsible for her son's death and the search for and death of Raoul Moat.
"She may well be forgiven that in the accumulation of news print that has been expended on this matter to date, Christopher, the victim, has been forgotten."
Earlier in the hearing, a fellow-prisoner at HMP Durham described Moat at the time of his release as a "lunatic", who would "end up killing someone".
A statement released by Mrs Brown said: "Christopher's death has been horrendous for the whole of our family, it has been hell.
"I hope that no one else in the future should have to go through what we have gone through."