Tina Casey death: Heather Emmonds guilty of murder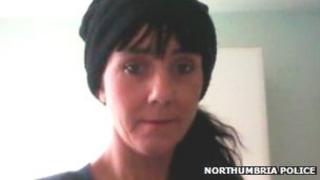 A grandmother who killed her daughter-in-law after being told she could not see her grandson has been found guilty of murder.
Heather Emmonds, 58, from Seaton Delaval, Northumberland, admitted stabbing Tina Casey, 42, but claimed she was not in control of her actions.
Miss Casey's body was found at her home in Holywell on 3 February, Newcastle Crown Court was told.
Emmonds had previously tried to poison her with sleeping pills, jurors heard.
Judge John Milford QC adjourned sentencing until Friday.
Miss Casey, who had been in a long-term relationship with Emmonds' son Keith, was found with more than 15 knife wounds to her head, neck and body.
Crashed car
The court was told Emmonds had already twice tried to poison Miss Casey by crushing sleeping tablets into a chilli and a sweet and sour dish she had prepared.
Emmonds said she had "had enough" after Miss Casey called her a "bad grandmother" during a row over money.
She said Miss Casey threatened to move back to the Isle of Man, where she had previously lived.
The argument continued, with Miss Casey asking to borrow cash to settle her debts, before it culminated in the murder, the court heard.
Emmonds had taken a change of clothing with her to Miss Casey's home and had tried to burn her blood-stained clothes and the murder weapon with lighter fuel at a nearby stables, the jury heard.
The defendant was later found collapsed in her Vauxhall Corsa after crashing it at a roundabout in Shiremoor, North Tyneside, having taken an overdose of sleeping tablets.
Police called to the accident found 10 hand-written notes in her car, confessing to killing her son's "on-off" partner.
One addressed to her grandson said: "Please don't hate me for what I have done. I really thought it was the best for you. I know it won't look like it.
"But dad is a great dad so be good for him and gramps. I will always love you, from your loving grandmother."
'Great dignity'
In a statement after the verdict, Miss Casey's family said: "No-one has won in this case, both sides of the family have lost a mother, one has died and another is in jail, through tragic circumstances.
"Both sides in this case have shown great dignity and have conducted themselves impeccably throughout this trial.
"We hope everyone now can start to get on with their lives and put this behind us."
Det Supt Steve Wade, of Northumbria Police, said the crime had had a "devastating effect" on Miss Casey's family.
"I'd like to thank them for their support and courage throughout this investigation," he said.
"This was a horrific attack, which resulted in the death of a mother.
"We welcome the decision of the jury and hope that it brings some closure for the family to know Heather Emmonds will spend a substantial period behind bars."