Divers search River Wear for university student Sope Peters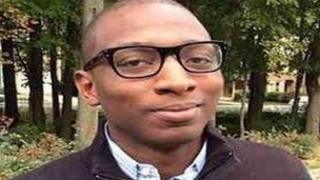 A police search for Durham University student Sopefoluwa Peters has intensified with divers checking the River Wear.
The 20-year-old has been missing since about 23:30 GMT on Tuesday when he left his flat in Highgate.
Mr Peters, usually known as Sope, was last seen outside Klute bar near Elvet Bridge at about midnight.
Members of his family have travelled from North Virginia in the United States to help with the search.
Mr Peters' uncle, Seyi Adegoroye, said: "It's a very close-knit family, not just his mum and dad and sister, but also his uncles and grandmother, both in Nigeria and the United States.
"It's quite devastating. We are a family with a very strong faith and we continue to believe Sope will be restored to us by God's grace."
Mr Peters is a second-year economics student at Hatfield College at the university. He is described as black, 5'7" tall and has an American accent.
He was last seen wearing a blue jumper over a black shirt and light green trousers.
Chief Supt Rob Coulson, of Durham Constabulary, said: "We have exhausted land searches around the area and carried out extensive CCTV examinations and we cannot put him out of the river area.
"That said, we are holding on to the hope that he is safe and well somewhere."