Sunderland Roker Pier tunnel plan moves forward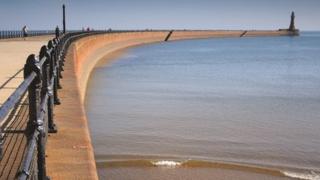 Plans to open a tunnel underneath a Victorian pier in Sunderland have moved a step closer.
It lies underneath the Grade II-listed pier in Roker which opened in 1903.
Sunderland City Council has received £53,200 from the Heritage Lottery Fund to develop a more detailed funding bid about how to restore the tunnel.
A £1.35m project to restore the 110-year-old pier, which was hailed as a triumph of engineering, and its lighthouse is already under way.
The 5ft 8in (1.7m) high tunnel was originally used by the lighthouse keeper to reach the lighthouse in poor weather conditions.
It was also used to rescue anglers after a 5m high wave hit the pier in December.
The funding announcement coincides with the 110th anniversary of the pier's opening.
Councillor Mel Speding said: "There's a real sense of history down there and I think it's something that lots of people would be interested in experiencing."
Ivor Crowther, from the Heritage Lottery Fund North East, said: "Roker Pier is an impressive example of Victorian engineering and played a crucial role in the creation of the wider Sunderland Dock, shaping the area as we know it today."