Swan shot in neck with crossbow in Lynemouth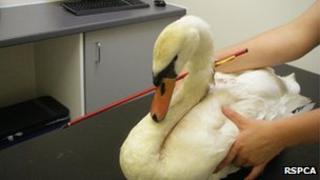 Animal rescuers have condemned those responsible for shooting a swan through the neck with a crossbow.
The female swan was spotted by a member of the public on the River Lyne at Lynemouth in Northumberland.
Vets carried out an operation to remove the bolt after the bird was rescued on Monday and said she had a "great chance" of making a full recovery.
RSPCA inspector Trevor Walker described the attack as "despicable" and one that caused the swan "great suffering".
Mr Walker said the swan was on a drip at a veterinary surgery, but that it was hoped it could be returned to water early next week.
'Soft tissue'
He added: "Officers from nearby Pegswood fire station came out when the original call was made and were utterly brilliant.
"They herded her onto dry land, where I caught her and took her to a veterinary centre, where the staff have been fantastic.
"They have managed to get the bolt out and this swan has a great chance of recovery as a result."
Sam Prescott of Robson & Prescott veterinary centre said: "Fortunately the bolt missed the swan's oesophagus, windpipe and spine and passed through the soft tissue only.
"She remains on a drip and it's hoped she will be well enough to be released back into the wild next week.
"Fortunately, the swan and her mate don't have any cygnets, but sadly they have had to be separated in order to save her life. It's hoped he'll still be on the river when she returns."
Mr Walker added: "This was an absolutely despicable act which has caused this swan a great deal of suffering. "
I can only presume the motivation behind this deliberate attack was entertainment."