Cagefighting pole dancer James Burman aims for Pole Princess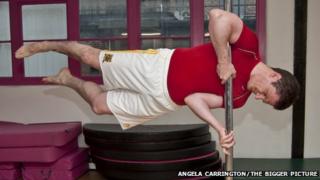 A former cagefighter from Sunderland will be pitting himself against a group of women as the lone male finalist in a pole dancing competition.
James Burman took it up as keep-fit routine six months ago after becoming a "bit of a couch potato" on giving up the combat sport two years earlier.
The 39-year-old initially submitted a video of his routine because he wanted feedback from the competition judges.
He will perform live for the title of Northern Pole Princess on 1 July.
Mr Burman, a marketing and PR manager, said: "I took up pole fitness to get back into shape.
"I'd been a couch potato for a couple of years and I've always liked doing some kind of physical activity."
Friction burns
He went to a men's only session in Newcastle, which he described as a "fantastic workout" despite it being "far more painful than people think".
"You're wearing short shorts as you need the friction, your skin sticks to the pole," he said.
"In some ways its far more painful than fighting.
"As a young man you're used to knocks and bumps, you're not used to the idea of friction burns from a steel pole."
He described the public perception of pole dancing as due to misunderstanding.
"I'm more interested in the positions I can get my body into," he said.
"I dance like a cagefighter, I'm not a graceful chap.
"I've got mirrors in my house and know what I look like, believe me, every time I get up that pole it's fifteen and a half stone I'm carrying.
"To to think it could be more than anything more than a fun bit of sport is a hard thing to grasp."
Mr Burman entered the competition because he thought the feedback on his filmed routine would be useful.
He said: "To my surprise - and I'd be lying to say it wasn't to my delight as well - they said 'congratulations, you're through to the live final'.
"When I walk out on the stage all expectation goes through the floor.
"There's no pressure on me, the only person putting pressure on me is me.
"Whether I win, lose, or draw I guarantee I'll have the most fun out of any competitor that night, and to me that's all it is."