More time for Tynemouth outdoor pool restoration bid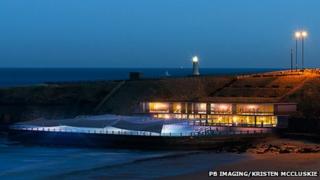 A Tyneside community group hoping to restore an outdoor pool to its former glory has been given "vital support" by the local authority.
The lido in Tynemouth was once a big tourist attraction but has now become derelict and North Tyneside Council has invited bids to take the site over.
Friends of Tynemouth Outdoor Pool submitted plans to bring it back into use as a swimming pool.
The council has now given the group an additional year to hone its proposals.
It also gave the green light for key council officers to become much more involved in the development of the project.
Barry Bell, one of the founding members of the Friends of Tynemouth Outdoor Pool, said: "We're delighted that North Tyneside Council have offered their support to the development of this project, and we're excited to have this opportunity to work alongside council officers to progress our ideas.
"Having the council as a key partner was always something we'd hoped for.
"Now that we have their support we've taken another huge step towards making this amazing regeneration project a reality."
North Tyneside's newly-elected mayor, Norma Redfearn, said: "I am committed to helping our communities to be actively involved in making decisions and shaping their local areas.
"The support provided by officers can help Friends of Tynemouth Pool to explore the options and hopefully get everything in place to ensure they can make their ambition a reality for the benefit of local people."