Wigan Cosmos play Goose Green at St James' Park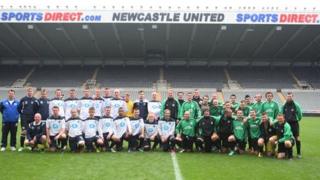 Amateur footballers from Wigan who had games ruined by travelling Newcastle United supporters have played a game at St James' Park.
The players from Wigan Cosmos and Goose Green saw their Sunday league matches abandoned when corner flags, nets and balls were stolen or damaged in March.
Newcastle fans piled off coaches and invaded pitches close to the DW Stadium before a Premier League fixture.
United reimbursed the clubs and invited them to Tyneside to apologise.
More than 200 fans disrupted the games in the South Lancashire Counties Premier Division for about 40 minutes before they were abandoned.
After the incident was reported Newcastle United urged witnesses to contact Greater Manchester Police.
John Pendlebury, manager of Wigan Cosmos, said it had been a "mind-blowing" experience for his players to play at St James' Park.
"You would never want what happened to happen to your club but there couldn't have been a better outcome," he said.
Goose Green boss Colin Clark said: "To bring my team here is just fantastic. Some people never get the chance to come to a ground like this."
Wigan Cosmos won the game against Goose Green 2-0.