Paralympian Stephen Miller to be awarded Freedom of Gateshead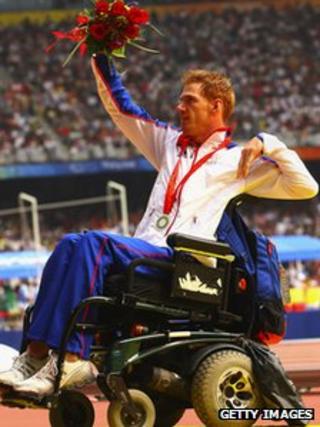 Paralympic gold medallist Stephen Miller is to be awarded the Freedom of Gateshead.
The 32-year-old from Cramlington, Northumberland, is to be made the 21st Honorary Freeman of Gateshead for his contribution to sport.
The decision to bestow the honour was made by councillors on Friday.
The multi-medal winning athlete said he was "incredibly proud" to be from the North East and was "delighted" to be receiving the honour.
A former Northumbria University student, Mr Miller trained in Gateshead for more than 15 years and is a lifetime member of Gateshead Harriers.
He said: "The support I've received from Gateshead Harriers and the borough as a whole has been invaluable to me.
"I'm delighted that Gateshead has agreed to honour me in this way."
Mr Miller has won three gold medals, one silver and one bronze and has took part in five Paralympics in London, Beijing, Athens, Sydney and Atlanta.
He will be formally awarded Freedom of the Borough during a ceremony at Gateshead International Stadium on 25 June.