Unions hold school reform rallies in Newcastle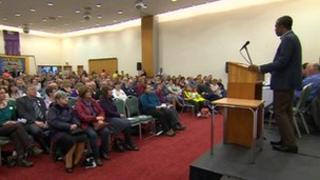 Unions, parents, teachers and school governors have held a rally in Newcastle in protest at the government's education policies.
The National Union of Teachers (NUT) said it was part of a campaign to defend education.
Christine Blower, NUT general secretary, said: "We know that neither teachers nor parents are happy with education policy under Michael Gove."
The government said parents backed its reforms.
'World-class education'
The rally was jointly organised by the NUT and National Association of Schoolmasters Union of Women Teachers (NASUWT) trade unions.
Ms Blower added: "[Mr Gove] wants to introduce profit-making into the education system and to create free schools in places where there are excess places, whilst he neglects the rebuilding and expansion of schools in areas where there are shortages of places."
Patrick Roach, NASUWT general secretary said: "These rallies for education are being held in defence of our world-class public education system which the coalition government is determined to wreck."
The government said parents backed its plans.
A spokesman said: "Our reforms are giving teachers more freedom, increasing choice for parents so every child can go to a good local school, and ensuring we have an education system that matches the world's best.
"We would expect the unions to support these ambitions.
"We think giving schools the freedom to reward good performance is much fairer than current arrangements which see the vast majority of teachers automatically getting a pay rise each year.
"We have met frequently with the NUT and NASUWT to discuss their concerns and will continue to do so."