Paralympic star Josef Craig launches sports development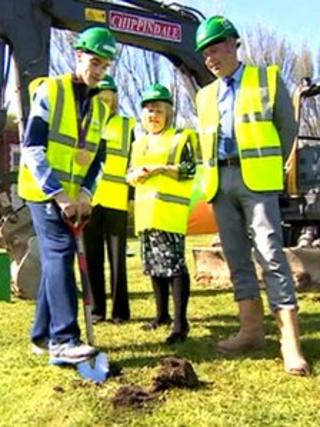 Paralympic gold medallist Josef Craig has launched the start of work on a multi-million-pound development in Sunderland.
The building at Bede Campus will mean Sunderland College students will have access to sports and arts facilities.
It is part of a £22m programme of improvements being undertaken by the college across its sites.
The South Shields-born swimmer said it should help to "keep talented athletes in the North East".
'Local talent'
The 16-year-old Young Sports Personality of the Year said: "The North East has got some very talented, very successful athletes all around.
"To have more opportunities like this, to build brand new facilities, gives people chance to showcase their skills and showcase that the North East is probably one of the best if not the best area in the country for sporting success."
Anne Isherwood, Sunderland College principal, said: "We feel it's important that our local learners have access to facilities locally."
In 2012 some staff went on strike over cuts to jobs and pay after the college announced it needed to save £2m.
But the University and College Union, said it welcomes the move as it will "help the college compete for new students against others in the region" many of which have had major upgrades in recent years.